WALTER'S + HOODOO BROWN BBQ
When: Thursday, August 28th, 2018
Where: Hoodoo Brown Barbeque, located in Ridgefield, CT
Menu (Counterclockwise):
The El Jefe-Walter's hot dog, Smoked Pork Loin, pickles & hot mustard
The Poodle-Walter's hot dog, shaved smoked pork rib, horseradish sauce & au jus dip
The J. Cougar-Walter's hot dog, brisket chili & cheese sauce
The Walter Brown-Walter's hot dog, sliced brisket & slaw
The Dogzilla-Walter's hot dog, crispy skin pork belly, Hoodoo voodoo & BBQ ranch
#waltershotdogs #hoodoobrownbbq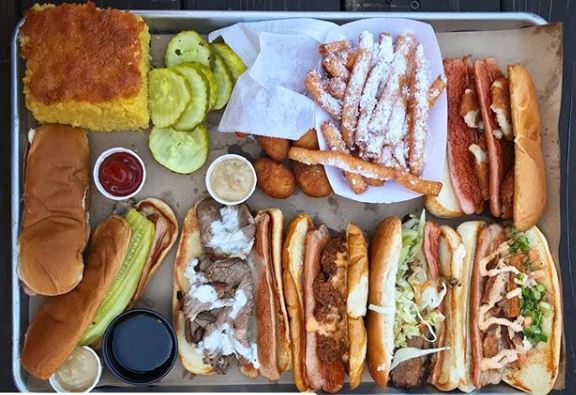 WALTER'S + HOODOO BROWN BBQ
When: Tuesday, May 23, 2017
Where: Hoodoo Brown Barbeque, located in Ridgefield, CT
What: Brisket and Walter's hot dog on a pretzel bun with slaw and Walter's mustard Pork Belly and Walter's hot dog topped with Hoodoo voodoo
#waltershotdogs #hoodoobrownbbq
WALTER'S + SMOKEHOUSE TAILGATE GRILL
When: Wednesday, April 19, 2017
Where: Smokehouse Tailgate Grill, located in New Rochelle, NY
What: Walter's hot dog topped with smoked tri-tip, mozzarella, crispy frizzled onions, & au jus
#waltershotdogs #smokehousetailgategrill
WALTINA POP-UP
Who: Walter's Hot Dogs + Fortina= WALTINA
When: Friday, January 27, 2017 & Saturday, January 28, 2017
What: Hot Dog- Walter's hot dog topped with foie torchon, pickled red cabbage, & horseradish mayo Pizza- Walter's hot dogs, foie gras, pickled cherries, crispy shallots, & Walter's mustard beschemel
#waltershotdogs #fortinapizza #themoreyouknow
BLACK TAP at WALTER'S
What: Black Tap takeover at Walter's
When: Friday, September 16, 2016
Shake: Cookies and Cream Supreme; Walter's homemade Oreo ice cream, chocolate syrup, vanilla frosting, Oreo crunch crumble, & whole Oreo cookies, topped with whipped cream
#waltershotdogs #blacktapthat
WALTER'S + PORTA NAPOLI
The Walter's Pizza
Classic margherita topped with curly fries, fried and mashed potato puffs, mozzarella, and the classic Walter's hot dog
Where: Porta Napoli, located in Harrison, NY
When: Debuted August 10, 2016
How: Porta Napoli posted a photo on Instagram about a new pizza they were making topped with hot dogs and french fries. This pizza is very popular among the people of Naples, Italy, and they wanted to bring it to Westchester. Rob Petrone, a producer and host on Fios News' Restaurant Hunter, suggested they call it "The Walter's" and have us top it with our famous hot dogs. The following day, Porta Napoli reached out to us and The Walter's was in progress.
We are so proud of this collaboration between our two local, family businesses. Our grandfather, Gene, joined us on pizza launch night and ate every last ounce of his pie proudly! Coming from Italy, we know Walter would be just as proud. So head to Porta Napoli, put on your stretchy pants, and mangia, mangia!
- The Walter's family
Videos for your drooling pleasure:
https://www.facebook.com/theofficialwaltershotdogs/videos